Nothing is erased
2018
acrylic/canvas
60" x 180"
Triptych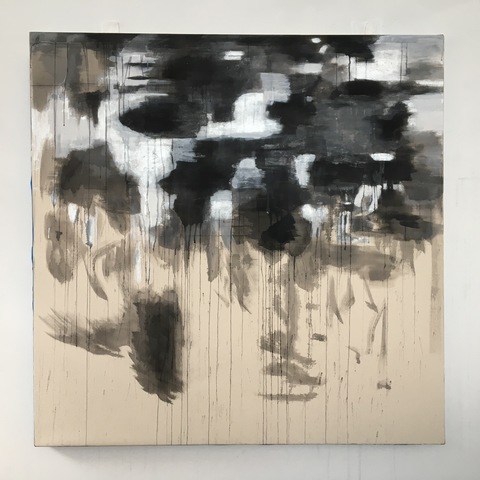 Fonds: Ice caps
2018
Acyric/Canvas
60" x 60"
De-picting, de-representing, un-doing. Surging up, fading away. Becoming indistinct. Withdrawing. Swept away, dispossessed. Clouds to rain. Snow caps. Silver dishes. Departing light.
Brooks overflow.
From rock to rock toward the abyss.
Unseeable seen around you.
Sound and smoke
Blacker, blacker still, not black enough.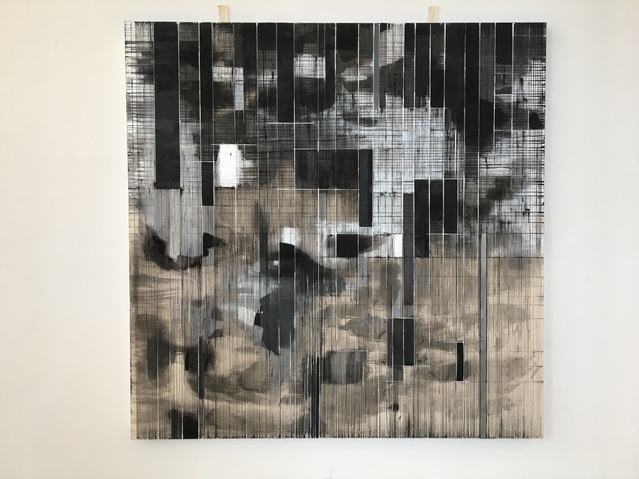 Fonds: Dirt and Dust
2018
acrylic/canvas
60" x 60"
Falling water erodes and defines promising new growth. Damp earth, hints of light. Absorbed and flooded. Run-offs.

Skirt the shadows, make the concrete abstract. Something collects and becomes a picture.

Black bands, staggered bricks, ties and reinforcements, layer upon layer, abandoned to the landscape. Look at what the painting says. See all the mistakes and remarks.

tyranny of the mundane
ebbing away,
middle distance.
gift of filth undone.
no unifying principle.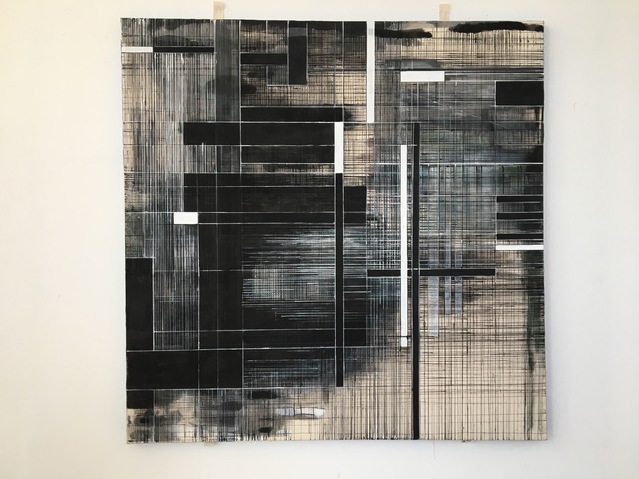 Fonds: Ditches
2018
acrylic/canvas
60" x 60"
The re-encounter.
What was not achieved.
Incomplete.
Out of reach.
You can make something no one will ever see.

Segments sewn together. White bands, stripes, black bands, deep holes. Tunnel vision going nowhere. Over grown landscape, patches exhumed, condensed into multiplicity of associations.

Baroque spaces, staggered depth. Constructing, de-constructing out of the rubble. Half-way suspension. Smoldering.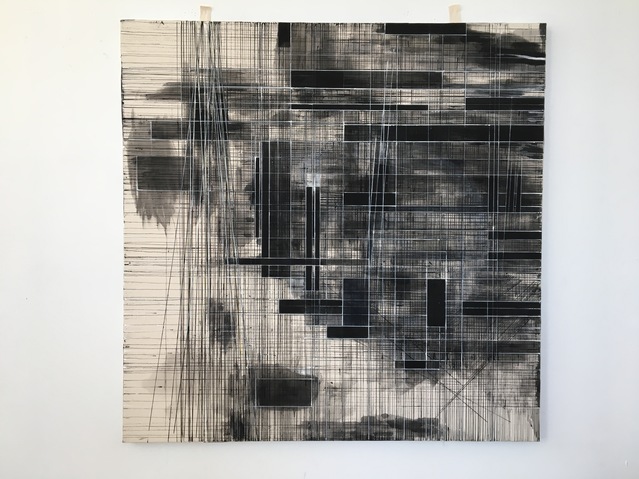 Fonds: Picture the wind
2018
acrylic/canvas
60" x 60"
Draw things out. See blindspots, vagueness, murky ponds and messiness beneath the surface - all in a state of incompletion. Time expands, things disappear.
Picture the wind written in a fog of smoke.

Silent things proceed, obscurely.
Burning thoughts incinerate.
Path of a brush fire.
Monologue: darkness.

Rain for a while
Moisture coming down, darkly.
Glistening black.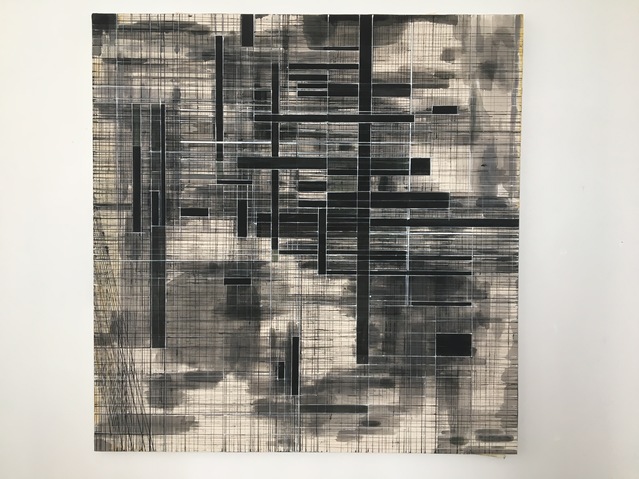 Fonds: Splitting Apart
2018
acrylic/canvas
72" x 70"
Lay down high wires, underground cables; wedges, ditches. Building up, tearing down. Mental effort, turn-about. Blocked currents, excavations, scaffolding, log-jams.

No turning back.
No warmth from the sun.
Green turns black.
If you don't get it right, no one will care.
Or talk about the painting.

new Question, 4 quadrants.
when nothing is done, the painting languishes
waits in space.
looking after it, looking forward to it.
Final thoughts
wave the white flag
unfinished, staying with it.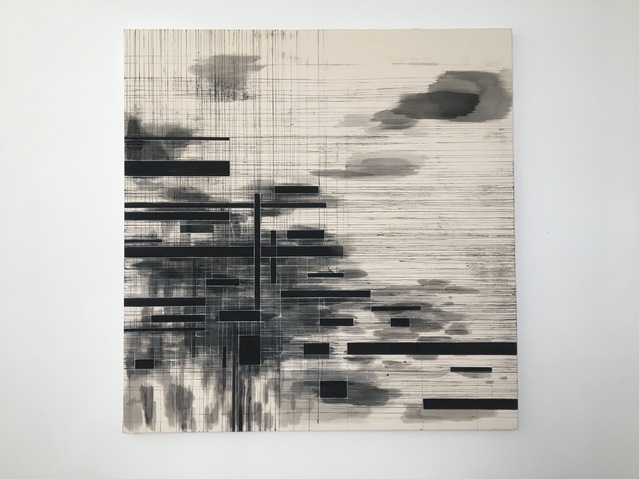 Fonds: Stains look at me
2018
acrylic/canvas
60" x60"
Water nymph pool
Fleeting shadows, warning bells.
Dark mass of feelings
Not being taken seriously enough.

Some things carried in your head are inaccessible. Stones, soil, rivers, clouds, air, wind. Empty nothing of everything.
Just because something disappears from consciousness for a while doesn't mean it is gone forever. It wakes up as something different.

What shows up slips away, what is being done is imperceptible and what is perceived doesn't fit into a sequence. You can only see it because it is not there and you are not in it. How do you capture something moving?

Everything left behind can't be reached. Lost, disappeared, faded. Regret resurfacing.

Floating islands in a sea
drifting, entangled.
Enchanted.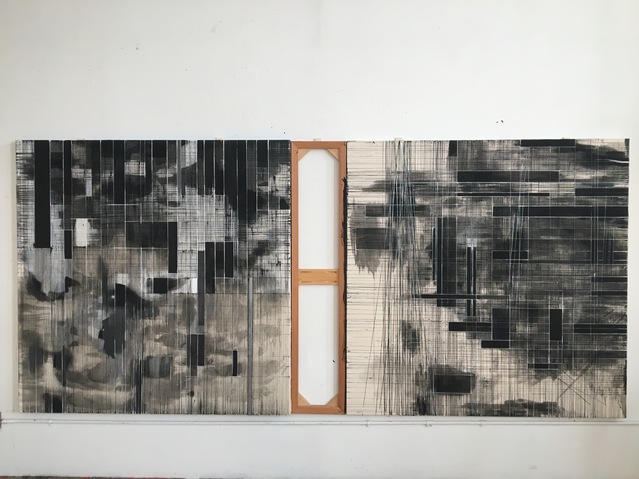 Fonds: Double Dark
2018
acrylic/canvas/wood
60" x 121"
(Composite with re-joiner)

Double dark, scarlet core.
into the beyond we cannot see.

Return to the un-thought. Dissolve any point of view. Resembling without resembling. Becoming new, again. Can't describe it, can't conceive it.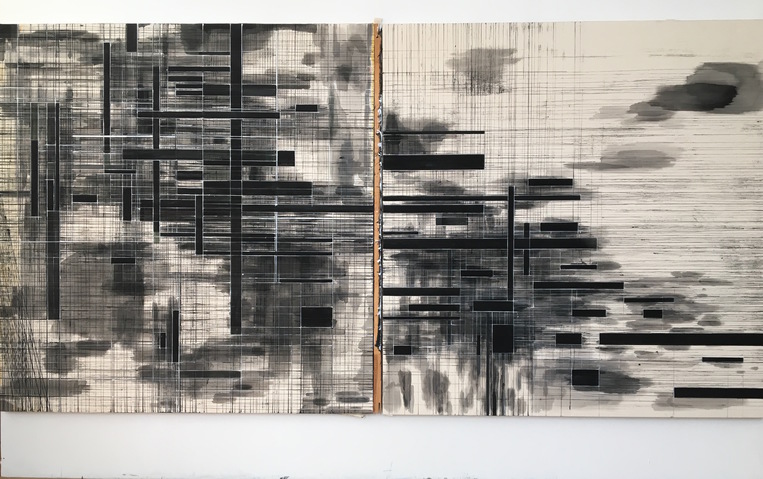 Fonds: Internal Weather
2018
acrylic/canvas/wood
72" x 142"
Composite with divider. Faded ink, smeared ink, blurred ink. Dissolution of matter. Something collects and becomes a picture.
A long wall of painting, read one to the other. Units overlap, don't mix. consider stop-gaps, blockage, detours and rib-bones. What is being depicted? Nothing is fixed. Keep adding on.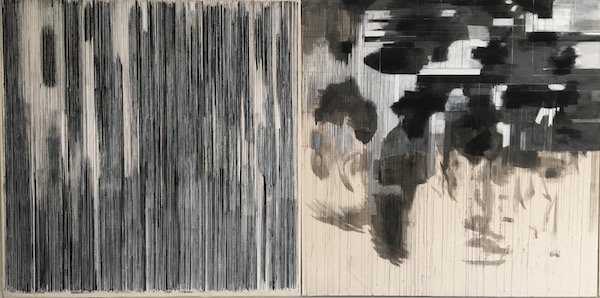 Breaking Ground
2018
acrylic/canvas
Diptych (60" x 121")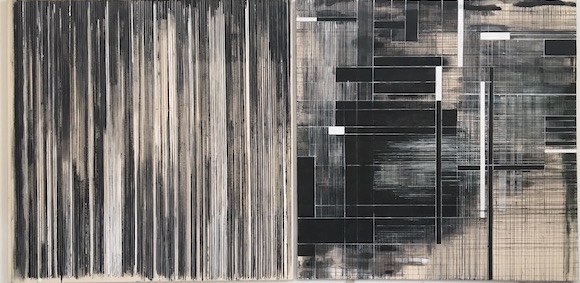 Brush
2018
acrylic/canvas
Diptych (60" x 121")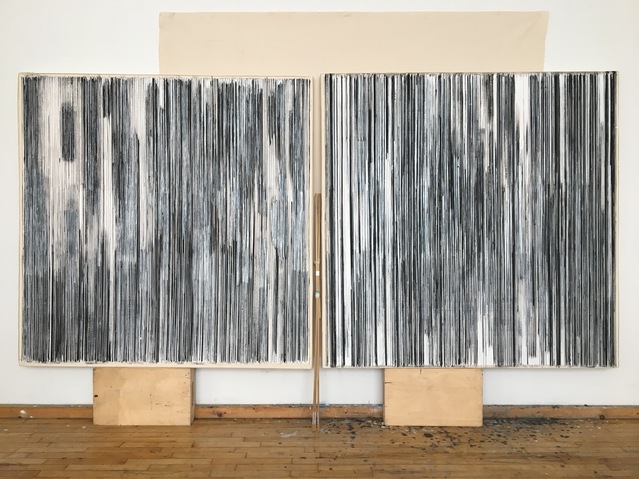 Switch
2018
Acrylic/Canvas/Bamboo, Apple Crates
60" x 122"
Reeds, spikes, skewers, switch, scepter. A device for making or breaking a connection; adapting or choosing one thing over another. Change of direction, of position of focus. Shift. Alteration. Open or close a circuit, exchange or swap. Reversal. Spreading tremors through a chain of marks that appeal to a new context. Timeliness in the making.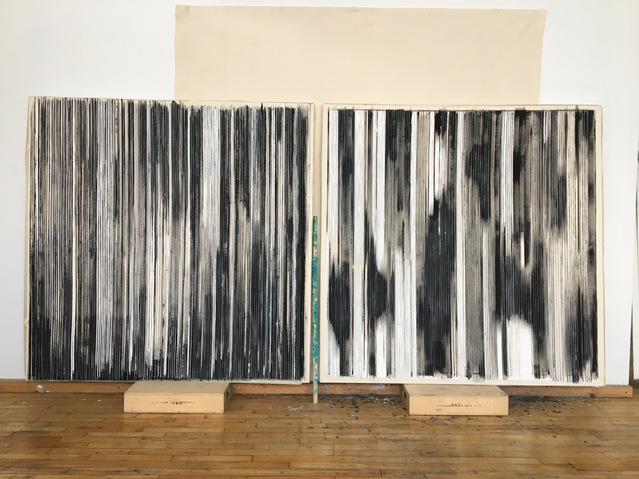 Secretaire: Scripture
2018
Acrylic/Canvas/jeweled staff, apple crates
60" x 122"
Diptych with staff (stroke).

A collection of lines piling up, each time, each one, singular, take on a different quality that happens over time. Staffage, an accessory or decoration is marooned within the lines, where the secrets are kept.

Currents of thought about what becomes this or that. Mingle the old with the new. Parts on pedestals hang together.

Margins of error, fields of dispersal
indefinable aim, data value.
Moves that defy analysis.
no result is perfect.